It was bound to happen: I've joined Twitter! It would be great to hear from you there!
Follow me or leave your Twitter name in comments below so that I can follow you:
http://twitter.com/PerfectBlogger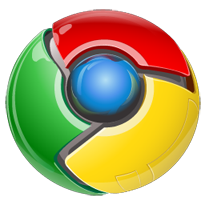 Looks like Google has taken one more shortcut to providing best service to its fans: as of yesterday, Google's very own Internet browser codenamed Google Chrome, is available for download.
What is Google Chrome?
My first impression is that Google Chrome is a slick ultra-light browser with minimalistic yet intuitive interface and a minimal set of settings. There's no fixed status bar, there's no main menu, there's just the address bar (called Omnibox because it also combines a search bar).
The tabbing works very smoothly, and overall you kind of feel there's something missing simply because there's only the page content and a very subtle set of controls. You get used to such a simplicity very quickly, though.
Here's how Google Chrome looks:
Performance of Google Chrome vs Firefox
I haven't noticed much of a performance boost yet, but maybe it's just because I need to play with this new browser a bit more. All the pages load quickly, but I've yet to see the ones which load much better than in my Firefox. ZDnet did some testing already and it shows that Google Chrome is quite fast.
What's really cool is the really simple interface and intuitive searching – as you type a URL, Omnibox tries to guess what website you're trying to get to. Works like a charm for many well known websites!
One of the main reasons Google came up with its own browser is performance of Google services and apps in modern browsers. Firefox is not ideal, although with a bit of tweaking you can get it to work pretty fast. Is it very likely that Google Chrome, being a highly specialized product, will be the best for GMail, Google Calendar and other services – but it may take some getting used to. Google also claims Chrome will be better for most websites, so it does seem like the optimizations will have a generic nature rather than a Google-specific services customization – I think it's great news.
That's it! Have a look at the browser itself, I think it's a great move for Google, but would hate to see it as a direct competition to my favourite Firefox. I think the fact that these two products both called web browsers still doesn't make a fair apples-to-apples comparison because Firefox has got quite a history and is much more universal as it is. I'm a long way from changing my preference for Firefox to any other browser, but must admit that Google Chrome seems to have done quite a neat and easy to use browser – time will show what Google will make of it.
See also:
After the last round of reviewing my online projects, I've decided to change not only focus but WordPress theme for PerfectBlogger.
As of today, this website will have Brian Gardner's Vertigo theme. My main reason for changing the look of Perfect Blogger is to declutter the pages of this blog, so have a look and let me know!
For all of you who were hoping to give Wordze keyword research service a try, here's your next chance!
If you register for Wordze between now and July 14th, you'll have to pay only $4 for the month of July, with $38.98 for every month after (you can cancel at the end of July if you change your mind).
I find Wordze to be one of the most useful and affordable tools online, and thanks to offers like this almost everyone can give it a try at virtually no cost.
Just wanted to highlight this information for you, although it's not exactly news – AJAX Libraries API from Google allows everyone to access the latest versions of most popular JavaScript frameworks right from Google servers.
What is AJAX Libraries API?
If you were looking for a way to simplify your usage of JavaScript frameworks, Google has got you covered: AJAX Libraries API is an architecture which hosts most popular open source JavaScript libraries on Google servers and thus make them highly available to use by any of your pages.
Why use AJAX libraries hosted by Google?
There's a few advantages to offloading JavaScript libraries onto Google's servers. Here's my list:
- no headaches with upgrading your JavaScript libraries – they're updated automatically so your pages are always using the latest and greatest versions available
- universally available – you can access JavaScript frameworks using the same methods from any pages of yours
- high availability – like everything else on Google servers, your scripts will be safe, fast and highly available – distributed among many Google servers and probably delivered to you from the geographically closest location
What libraries are currently available?
Here are the ones you can start using right now:
The full list of libraries available through AJAX Libraries API can be found here: Google AJAX Libraries, I presume it will be updated as more libraries get hosted there.
Via: Google Hosts Popular JavaScript Libraries @ Google System blog
The wait is over, and WordPress 2.5 is finally released! Compared to the previous 2.3 branch, this new release brings an amazing pack of improvements and additions, and it looks like 2.5 is going to be one of the most interesting WordPress releases of the past years.
There is an excellent highlight of all the main features on the WordPress blog: WordPress 2.5 Brecker.
New WordPress 2.5 features
The things I'm really looking forward to try are the following:
- new dashboard – apart from cleaner look and improved usability, it also supports widgets for expanded functionality
- multi-file upload – apparently with a progress bar!
- fully integrated tag management – adding/renaming/removing any tags is a native functionality with this release, so no additional plugins are needed
- using newer version of TinyMCE (that's the fancy editor with plenty of useful toolbars you see when creating a page or a post) promises fixes to many complex HTML issues (working with lists and paragraphs has traditionally been painful for me), and there's a no-distractions mode I really look forward to – minimum of interface controls so that you can fully concentrate on the content
There are many more improvements like automatic plugin upgrades and built-in image gallery functionality, which many of you will find useful as well, but I've yet to look into them.
All in all, I think it's the most exciting upgrade, WordPress team once again did a great job.
Wait no longer: download WordPress 2.5 and get busy with your upgrades!
More links on WordPress 2.5
As you probably know, WordPress 2.5 RC1 is available for a preview download, and the final WordPress 2.5 can be released in the next few days. Since it brings a traditional ton of useful improvements, it probably makes sense to see how ready your current blog is for the new major upgrade.
Useful links for WordPress 2.5
Here are just a few links you may find useful:

Wordze is doing yet another campaign: to celebrate Easter, this whole weekend you can register and get your first month with Wordze for just $15 instead of the regular $45 price.
To avail of this offer, just follow this link: Wordze – first month for just $15.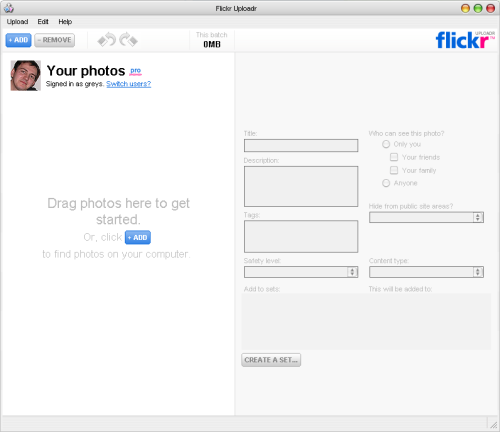 Many of you have probably notice the recent update of a Flickr Uploadr – a great tool for bulk uploads of your new photos to Flickr. I've been a fan of Flickr for quite some time, and plan to use it for photo streams on some of my blogs in the near future.
I absolutely love the new interface and yet simpler and more effective interface of the 3.0.x beta, but was, like most of you, startled to find out the proxy unfriendliness of Flickr Uploadr 3.0.x.
There's no mentioning about proxy configuration in the Settings dialogue, and that's why you will have to fix it yourself. Luckily for all, it's not a complex process. Read more
Finally, the 5$ themes club is up and running! Please have a look at the original announcement made on the WPdesigner blog for the full story, but just to get you interested enough I'll tell you what this club is about: it's a paid membership community where for just 5$ a year you're guaranteed to have access to at least 12 unique WordPress themes. Sounds like a sweet deal!
Here are the highlights of the 5$ Themes Club: