I've switched my Personal Development Ideas blog from greyspk.com domain to a new one – personaldevelopment.ie. It was a planned event and I do know what to expect from such a move – for instance, my Google rankings will inevitably drop and will be regained in 3-6 months, after most of my newly located pages will be indexed and available by Google search.
But SEOmoz have just posted a great article on Expectations and Best Practices for Moving to or Launching a New Domain. What I really liked about this article is not only the realistic expectations set for both scenarios, but also truly the best practices for achieving your goals.
Here are just some of the really good advices given in the article:
Submit and verify your sitemap to Googe's Webmaster Central.
Get as many links to your new domain as possible
Update all your own links to reflect the new domain and not the old, redirected one.
Monitor your logs and contact major resources linking to you to update their links
An excellent article, Rand! Thanks a lot for sharing!

Matt Cutts has just pointed out that Google Reader has a new trends page, which shows you a nice-looking summary of what exactly and how much you read daily.
I really like this new feature: it will save a lot of my time now because I've been trying to identify similar trends myself. Just recently I've deleted 50+ feeds from my Google Reader, because they produced 3+ posts each on a daily basis, and were not useful at all. This allowed me to concentrate on the rest of what I have so far: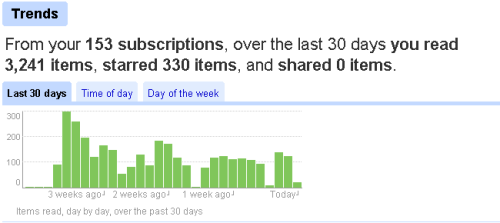 Note: my blog design does not allow for wide images, so I've combined two portions of the report myself by aligning them vertically.
Google Reader Trends page for your account is accessible using this URL: http://www.google.com/reader/view/?page=trends.
Update: I see Darren Rowse has just posted his first impressions of this page, too. Please follow this link to see some of his Google Reader trends and how they correlate to Darren's reading and browsing patters: Google Reader Adds Reader Trends. Very interesting. Thanks for sharing, Darren!
It's Saturday again, and this means I have a few articles I'd like to share with you. I'm sure you will find them useful.
Darren Rowse has created a list of all the RSS advertising options available to you at this moment. As always, he adds his own opinion and short description which is the most valuable feature of his posts. Thanks, Darren! I think as soon as I gain enough readership for my feeds, I'll be definitely considering one of the options he listed.
Joe Hauckes from Working at Home on the Internet shares his thoughs on overly aggressive ads placement with blogs in his How To Lose A Visitor Before They Become A Reader article:
This particular Blog had an ad in every Hot Spot and a few of the Cooler Spots, and even some of the Spots that were Below Freezing. I understand the need to use advertisements for income and support of the site, but at least allow people to see the Name of the Blog without being slammed in the face by Flashing Banners.
I absolutely agree. You've probably noticed me using AdSense as well, but I try and not make it block the actual content. I strongly believe that any online project should provide tons of useful content before making any attempt to financially benefit from it through ads.
Just thought it's about time I start sharing some of the useful posts I come across during my week.
Here are a few for the past week:
Rajesh Setty from Life Beyond Code has written a very good article: 10 things they didn't tell you about blogging. Some of the points he made are simply brilliant, for example this one:
You can't get rich blogging.

Again, there are exceptions. Then, you don't include Las Vegas and Lottery in your growth strategy. Do you?
It did make me laugh. Surely, there is a different "rich" definition for every one of us, but in general he's right. It takes a lot of effort and time to get so good in blogging that it pays you enough to live off it.
It's easy to start but hard to maintain.

In fact, it is VERY hard to maintain. Since most bloggers are not depending on blogging for their living, it is walking an extra mile almost everyday. Plus, how do you motivate yourself to do something that does not have a short-term return?
Again, a very common problem. You've got to be really passionate about your blog's topic, otherwise you will not be able to stay motivated for long enough to see it gain traffic and your readers start commenting and motivate you to write more.
A few days later, Rajesh had posted another 10 things they didn't tell you about blogging, sharing some more of his experience with us:
Don't write if you don't have anything to write

You know – writers block affects bloggers too. It is REALLY OK to not post anything if you don't have anything valuable to post. Weak posts bring down the average value of your posts. Why take that risk?

The reason that you write should not be because you have a blog but because you have something valuable to contribute.
I totally agree on this one. I'm constantly struggling with myself over days of quietness on my blogs – whenever I don't have enough time to share an idea or some knowledge in a quality article. At first you feel really compelled to post ANYTHING, because your blogs have to appear dynamic and regularly updated. But when you realize that a weak post will have a much more negative impact than no post at all, you eventually learn to be patient.
Chris Pearson shared his observations after his website had finally got out of the Google Sandbox (congratulations!), and compiled a Graphical Look at the Effects of the Google Sandbox:
It really is amazing how powerful Google is in terms of pushing traffic all over the Web. I have literally been wowed by the rate at which my traffic and other metrics have increased over the last two months, which is basically the time frame in which I crawled out of the Google sandbox.
If you're interested in learning more about Google sandbox and ways to get out of it, I have previously posted an article about it, so please have a look: Simple Ways To Get Out Of Google Sandbox.
And last, but certainly not the least, is Paul Scrivens, explaining to some of us Why Your Web App Sucks with well-known examples. And excellent read with some links to other interesting articles from the same Wisdump site:
The reason it is so hard to make a great web application is because it is so easy to make it suck. The greatest ideas do not always translate into the greatest applications because of poor execution.
That should make 10 minutes of your reading today worthwhile. Enjoy!
While opening Google AdSense search results within your own site is definitely not new, I haven't seen any quick review explaining how it all works and what's required to set it up. Working on enabling this AdSense feature for my Personal Development blog, I figured someone else could find this post useful.
Introduction
Why would you want to show Google search results on your own page? To make sure your visitors enjoy the same interface the rest of your website has, of course. To ensure the design integration makes visitors feel as if they're browsing just another one of your pages.
Everyone who had used Google AdSense for search feature in the past, must remember that you had only an option to change some basic colors for the results block, and it would be opened from Google's website and usually look very different from the rest of your website.
Well, now we have an option to change this.
How it works
The idea behind showing your Google search results on your own site is pretty simple. You've got to set up a designated search results page on your site. You're free to change any design feature of this page to make sure it looks as good as any other page of your website, but space for the Google search results must be reserved.
Instead of one piece of Google AdSense code, you're going to get two. The first piece of code is the one creating a Google search form for your website. Something which will look like this: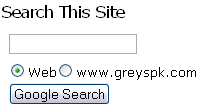 The second piece of code is for your results page. Just copy & paste the search results code from your Google Adsense to your search results page, and you're done. If you open such a page manually, without being called by Google AdSense search form, you will see no search results, but if the page is shown as the result of an actual search using the Google search form on your website, you will see a neat page with all the results found and nicely integrated in your design.
Step-by-step instructions
I don't intend this page to be a full manual on the Google AdSense search results integration by any means, but all the steps shown before will hopefully show you how easy the whole procedure is.
1) Google AdSense account - you must have a valid AdSense account to begin with. If you still haven't got one, it's not too late to get one – you will find all the details in my Getting Started with Google AdSense article.
2) Find out the URL of your future results page
You need to know where you results page is going to be found, because you will be asked for this URL in during AdSense for search setup.
For WordPress-based blog, it is fairly simple to specify the exact name of your page and therefore know the full URL for this page without even creating it (you can't created it yet, read on to find out why)
3) AdSense for search setup
Log into your AdSense account, open the AdSense Setup tab, click the AdSense for search, and configure your Google AdSense search in a way similar to this:
Search Type section – this is where you decide what kind of search you would like to provide your visitors with. Most likely, you will opt for a Google WebSearch + SiteSearch, as it allows both global and local (your domain-specific) searches.

Click the radio button for the desired option, and if you opted for the SiteSearch option, type your website's URL in the form provided.

Search box style section – this dialog allows you configure the way your Google search form will look on your website
More options section is the one where you need to choose the preferred way of Opening of search results page. If you click the Open results within my own site radio button there, you will be prompted for a URL of your search results page from Step 2 of this how-to.
Complete all the rest options like you normally would, and the last step of your AdSense for search setup will be the two pieces of code I have mentioned before, ready for you to copy and paste into your website pages.
4) Create a designated search results page for your website
Now that you have the necessary pieces of code in your AdSense setup window, would be a good time to create the results page of yours.
If you're a blogger, then you need to create a static page of some kind and make it look the same way you'd like it to be, leaving space to be populated with search results.
If your blog is WordPress-based, you will need to create a page template, and then create a new page based on this template. You can find all the necessary information on working with Pages in WordPress on the Pages section of official WordPress documentation site.
Essentially, a page template in WordPress is nothing but an PHP/HTML file you create in your WordPress theme directory. Take one of the existing page templates to start off, and make sure you paste the second piece of AdSense search code into this page template where you would like to see your search results.
5) Update your website to include the latest AdSense code for the search form. This is where you decide what page of your website (or pages if it's your blog – cause many bloggers put search forms in the sidebar code, so that the search form is shown on practically every page of their blog.
That's all, you're done. Enjoy your new Google AdSense search results page!
If you're looking for a working example, please visit my Personal Development blog, and use the search form found on the right sidebar. If you want to compare my search results page to the same page opened manually, you can always open the search results page yourself (like I mentioned before, you will obviously see no results in this case).
Let me know if you need help with getting this AdSense feature working on your website – just a leave a comment for this post, and I'll be sure to contact you using the email provided.
Also, I think you would benefit from reading the official AdSense support article on the same topic: How do I implement Adsense for search results on my own page?

I haven't found an easy enough way to highlight the most recent updates to the Blogging Glossary, and so I'll probably be announcing some of the articles there until a better way is found.
I've just created a page with a definition of Google Sitemaps which I think you may find useful, especially if you're new to this technology. Please have a look here: Blogging Glossary: Sitemap.
pS: I'm planning to implement a sidebar plugin which will show a total counter of all the articles in the Blogging Glossary, and will also give a list of the ones most recently created/updated ones. Do you think such a feature will be useful for you? Do you have any other ideas or suggestions? Please let me know! Thanks!
Great news!
Starting yesterday, new users can get an instant registration with Google Analytics service. Previously users had to submit their request and wait for the Google Analytics team to get back to them with an approval of the registration and a special invitation code.
According to the official blog, from now on the Google Analytics service is fully open to the public and you can get started in a matter of minutes.
I'm working on a Google Analytics page in the Blogging Tools section of PerfectBlogger, and I'll be sure to let you all know as soon as I update this page.
The most popular blogging website, Blogger, has just announced a new beta version of their service. It looks like developers have listened well and worked hard to please their bloggers. To help you learn new service features, there is a tour with highlights of the most interesting newly made improvements.
For the moment, only a limited number of existing blogger.com users can switch over to the new beta (you should see a link on your Blogger dashboard), but it is promised that eventually everyone will be able to enjoy the new version of the service. Everyone is invited to register a new beta account to try all the improvements out, and it's possible to use your existing Google account for logging in.

Some of the new features are:
Improved dashboard
Labels (categories) you can assign to each post
In the Posting dialogue, you have a text field for a comma-separated list of your labels. The default layout of your new blog will not have a list of labels, but you can easily change this by editing your blog template and adding a Labels page element. You can set the name of this page element to anything you like, and you will also have the option to sort your labels list alphabetically or by a number of posts with each label.
Private blog
You can now limit access to your blog, by closing it to the public access and inviting your friends by email. Each of them will get an invitation with a unique ID in the URL, so that they'll have an option of either viewing your blog in guest mode for up to 30 days, or to associate this invitation with their existing Google account. Obviously, there is an option of easily creating a Google account as well.
Better blog layout
It is possible now to drag-and-drop page elements in the layout editor, and generally it's much easier to customize your blog's template
Feeds support improved
RSS 2.0 and Atom 1.0 are both supported now, and there's more flexibility in controlling your feeds (you can have a separate feed for all your comments, or provide feeds for comments to each entry)
To learn more, please read the New Features section of the Blogger Help site.
I've recently discovered link units for myself, and having tried them out on a couple of my blogs, I highly recommend you give them a try. If you still don't know what link units are, please visit this page: https://www.google.com/adsense/adformats.
In fact, now that I look back at the half a year of my AdSense experiments, I don't understand how I could start with something else and not link units – they're so simple to add and integrate into your blog design, yet so effective that they're bound to make any page with a decent content earn you some money!
Imagine yourself as your website visitor
The reason I never tried link units originally is because I couldn't understand why someone would want to click them. As all the webmasters and usability experts say, you've got to look at your website with the eyes of a visitor. Not only you should do this, but it is also recommended to imagine yourself both a random and a targeted visitor – cause they really are two quite different flows of traffic for your website.
So doing such an analysis and trying out all kinds of visitors in my imagination, I just could not understand why I would like clicking the link units. It would make so much more sense to me to click a text ad which shows you the URL and gives you a short description of the website you're about to get to. So it made no sense to me, and having spent few hours over the course of a week or two thinking about link units, I did eventually give the idea up.
Few months later though, having tried few other AdSense formats, I've decided to give link units another go simply out of interest. I was pretty amazed to see that quite a number of my visitors DID click link units and not only that, but also followed up and clicked some of the links provided by Google when you click on a keyword in a link unit.
Now I believe I've finally figured out why link units work. This is because of the number of factors:
Link units look promising
Indeed, most of link units look like some kind of a menu. Some websites integrate them so well, that they completely blend in with the rest of menus – so that visitors click link units as easily as they click any other menu item.

It had been noticed that using a Link Unit closer to the top page makes it look like a menu bar so much that it greatly improves the click rate, while if you were to place the same Link Unit closer to the middle of your page, it may have no impact and attract no clicks at all.

Link units are neat and compact Link units are probably the easiest AdSense ads to integrate into your website design. There's quite a number of formats for these units, so make up your mind and start experimenting
Link units deliver results Essentially, link units are keywords – the most relevant ones to the current content, according to Google. And clicking on any of these keywords will bring you to more relevant results to click on. Visitors see the keywords and they immediately get an idea of what kinds of links they're going to get when they click link units.
Link units are not overloaded with URL descriptions This is probably one of the most important things to understand about AdSense link units. I believe I haven't tried link units before exactly because of this reason. I did not understand why visitors would click on some keywords that they might have an idea about but no exact knowledge of what results they're going to get. But then I had realised that this also serves as an additional attraction – visitors click on link units EXACTLY because they don't know how good or bad results they're going to get. In contrast, when they see a full-scale text ad, they read the description of a link, and they may immediately decide not to follow the link because they don't want to visit a particular site. But with link units, they have to click to get the list of URLs with their descriptions
Link units are different When users click link units, they get a page with relevant ads in a form of Google search results. This list of URLs does not look like an ad at all – it's in a form of a list of potentially useful resources which your visitor might find helpful. I believe there's something psychological behind this representation of ads, because users seem to be more willingly clicking such ads compared to how standard AdSense ads perform.
That's all for today. Good luck with your AdSense experiments, and be sure to let me know how you progress!
Darren Rowse at ProBlogger posted a list of Challenges Facing Young and Older Blogs today, and I just wanted to point you to his post and also add some thoughts of my own.
I think, Disillusionment with a Niche is as big and as serious a problem for new bloggers as it is for older ones.
Recently, I see far too many bloggers starting new blogs in search of a quick passive income opportunity – they misjudge the niche and raise their expectations too high. Not only are they hoping to earn top dollar starting with the day one, but they also expect it to happen almost automatically, assuming they're going to rank high in the niche.
The reality is though, that it takes a fairly long time to establish a reputation and get regular visitors for any project. Even if you're a gifted writer with incredibly interesting and relevant ideas, it might take you few month to get regular traffic, firstly because of the Google indexing delay (your pages are indexed almost instantly, but they usually are not shown in Google search results for a month or two), and secondly is because traffic brings traffic. So if you have major resources pointing to your new project, you'll grow pretty quick.
Of course, the irony is that usually you have to write lots of useful content, earn the trust and respect, and get some initial traffic before any of the major projects out there will notice you and start linking to you