I'm currently working on a new design for my Personal Development Ideas blog, and since I plan to pick a new color scheme for it, I've done some research and found a few excellent online resources to help you find the best color scheme for your design.
Here are the tools I recommend. All of them give you a color scheme as a result, and allow you to copy the hex values of each color:
Color Schemer
It's an online tool from a well-known publisher of the Color Schemer Studio – a software for Windows and MacOS platforms. If you're serious about your new color scheme, you'll probably benefit most from downloading the software, but basic experiments can be simplified with their online tool.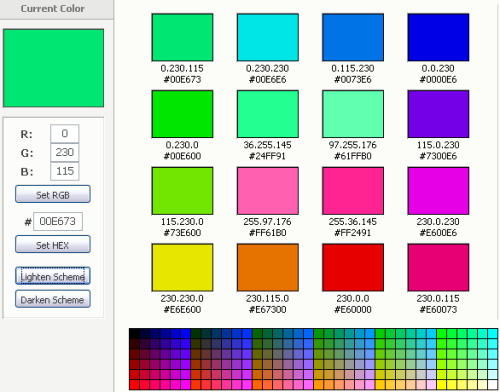 As you can see, the idea is built around you picking a current color, and then the tool will suggest you matching colors based on its algorithm. Using the "Lighten Scheme" and "Darken Scheme", you can change the contrast of a scheme.
Color Scheme Chooser
This is a free online tool from SitePro Central. Not only does this tool offer you great functionality, but it is also possible to place the tool on your own webpage using the provided HTML code.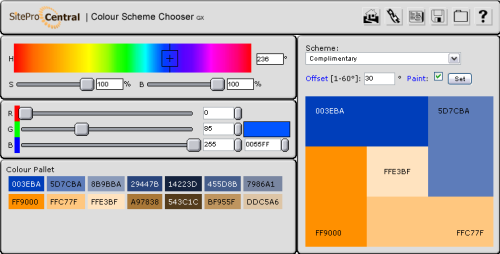 You can probably see from the screenshot, that this tool offers you even more flexibility in choosing your base color. In addition to this, you get a choice of color scheme definitions, which allows you use the same base color to produce different color schemes – based on analogic, complimentary, split complimentary, triadic and double contrast approaches for picking colors.
Colormatch Redux
This tool from Style:Phreak, while having probably the simplest interface of all, has pleasantly surprised me by its choice of export options – for example, you can have it export all the colors of a current scheme into a clear text file. But the best export option is to save the scheme as a Photoshop color swatch file. Really handy!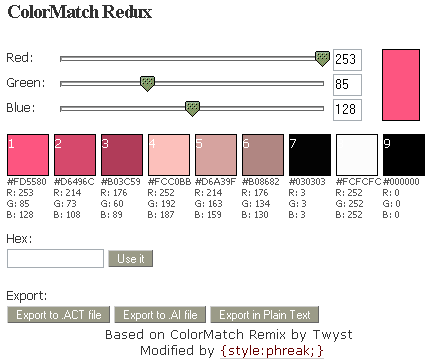 Color Scheme Generator 2
This tool has a very interesting way of picking colors and gives you more precise control of the angle for the tool to pick opposite colors for your scheme. There is also a number of variations available to slightly alter your scheme – Default, Pastel, Dark Pastel, Light Pastel, Constrast and Pale.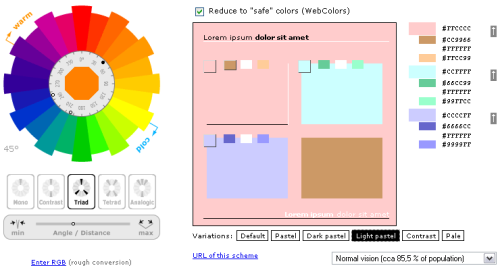 That's it for today. Hope you find this round-up useful! If you know any more online color scheme tools worth including, please let me know by leaving a comment!