Matt Cutts has just pointed out that Google Reader has a new trends page, which shows you a nice-looking summary of what exactly and how much you read daily.
I really like this new feature: it will save a lot of my time now because I've been trying to identify similar trends myself. Just recently I've deleted 50+ feeds from my Google Reader, because they produced 3+ posts each on a daily basis, and were not useful at all. This allowed me to concentrate on the rest of what I have so far: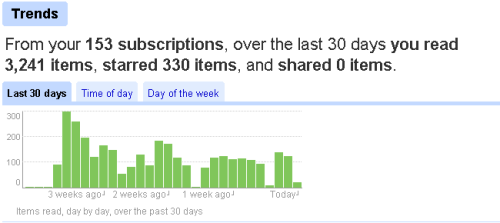 Note: my blog design does not allow for wide images, so I've combined two portions of the report myself by aligning them vertically.
Google Reader Trends page for your account is accessible using this URL: http://www.google.com/reader/view/?page=trends.
Update: I see Darren Rowse has just posted his first impressions of this page, too. Please follow this link to see some of his Google Reader trends and how they correlate to Darren's reading and browsing patters: Google Reader Adds Reader Trends. Very interesting. Thanks for sharing, Darren!