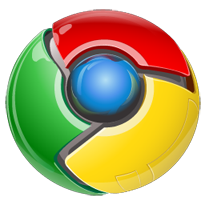 Looks like Google has taken one more shortcut to providing best service to its fans: as of yesterday, Google's very own Internet browser codenamed Google Chrome, is available for download.
What is Google Chrome?
My first impression is that Google Chrome is a slick ultra-light browser with minimalistic yet intuitive interface and a minimal set of settings. There's no fixed status bar, there's no main menu, there's just the address bar (called Omnibox because it also combines a search bar).
The tabbing works very smoothly, and overall you kind of feel there's something missing simply because there's only the page content and a very subtle set of controls. You get used to such a simplicity very quickly, though.
Here's how Google Chrome looks:
Performance of Google Chrome vs Firefox
I haven't noticed much of a performance boost yet, but maybe it's just because I need to play with this new browser a bit more. All the pages load quickly, but I've yet to see the ones which load much better than in my Firefox. ZDnet did some testing already and it shows that Google Chrome is quite fast.
What's really cool is the really simple interface and intuitive searching – as you type a URL, Omnibox tries to guess what website you're trying to get to. Works like a charm for many well known websites!
One of the main reasons Google came up with its own browser is performance of Google services and apps in modern browsers. Firefox is not ideal, although with a bit of tweaking you can get it to work pretty fast. Is it very likely that Google Chrome, being a highly specialized product, will be the best for GMail, Google Calendar and other services – but it may take some getting used to. Google also claims Chrome will be better for most websites, so it does seem like the optimizations will have a generic nature rather than a Google-specific services customization – I think it's great news.
That's it! Have a look at the browser itself, I think it's a great move for Google, but would hate to see it as a direct competition to my favourite Firefox. I think the fact that these two products both called web browsers still doesn't make a fair apples-to-apples comparison because Firefox has got quite a history and is much more universal as it is. I'm a long way from changing my preference for Firefox to any other browser, but must admit that Google Chrome seems to have done quite a neat and easy to use browser – time will show what Google will make of it.
See also: