Finally, the new release of WordPress is here. WordPress 2.3, codenamed "Dexter", brings many long-awaited features and fixes 350+ issues found in previous versions.
Most interesting features in WordPress 2.3
Tags - now with native support. Strangely enough, you'll need to download separate plugins to manage the tags.
Canonical URLs – will allow you to change slugs of any post and have WordPress automatically redirect old slug URL to the new URL of your post. Brilliant idea, great for SEO! Mark Jaquith has a great post explaining how it all works: Canonical URLs in WordPress 2.3
Advanced editing options in WYSIWYG editor for posts and pages are finally accessible via a special button. The trusty Shift+Alt+V combination for doing the same still works, of course.
Update notification functionality will let you know when there's a new version of the WordPress engine or any of the plugins you use. Must save us all tons of time we usually spend tracking the updates, downloading new versions and troubleshooting the upgrades of all the plugins.
If you want to learn more, there's a traditional 10 Things You Need To Know About WordPress 2.3 review posted at Technosailor. As always, a highly recommended post!
Before you rush it to download the latest WordPress and get your upgrade started, please be sure to verify all your plugins are up to date and will be supported in the 2.3 release. I've done this for all the plugins on Perfect Blogger, and so my upgrade happened in a matter of seconds and without a single problem.
If you think you need help upgrading your WordPress – feel free to contact me and we'll see what can be done.

BlogRush has finally arrived and is quickly picking up the pace! Looks like it's developing rapidly, with many features promised to be released in the coming days.
If you've been waiting for increasing the amount of relevant traffic to your blog, then I suggest you join the BlogRush and start enjoying its benefits.
For those of you who haven't heard about it, I've compiled a very quick how-to on BlogRush.
What is BlogRush?
It's a traffic attraction tool which helps you get relevant traffic. All the members of the BlogRush service place their blogs into certain categories, and by showing links to blogs in your category, you automatically earn points which will make other blogs show links to you.
There's a lot of hype around BlogRush, and while some people absolutely love it, others have learned to hate it in a matter of just few days since the release. Visit the BlogRush website, watch the introductory video, and it will hopefully suggest how useful it will be for your blog. My opinion is that it's worth a try. But whether it will be a huge success or not is still to be found out.
It's been reported that some categories of BlogRush consist mostly of splogs, but it's only a matter of time before BlogRush guys get rid of them – looks like they're moving to a manual submission reviews pretty soon, which will rule out the possibility to abuse the service.
How does it work?
After your sign up to BlogRush, you'll be asked to provide basic information about your blog – it's name, main page link and the blog feed link. Then you'll need to confirm the interest group your blog fits into most. The last step is for you to integrate a piece of BlogRush code into your sidebar, and it will result in looking something like this (browser-based readers of this blog can find the live BlogRush widget in my sidebar):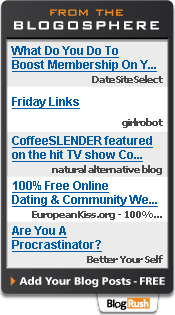 It's currently a fixed design, but works on BlogRush flavours are already in progress – so pretty soon we'll be able to customize the look of this widget to better suit our blogs.
Every time someone opens your blog, they'll see the BlogRush widget with updated links to other blogs in the same interest group. By showing links to them, you earn points so that the BlogRush widgets on their pages will show links back to your blog.
Why use BlogRush?
Here is my personal list of the best reasons to join BlogRush:
It's an absolutely FREE service
It's (really) easy to get started – feel free to contact me and ask for help if you're stuck
The traffic you get is targeted – so you're more likely to get really interested visitors
It's a smart way to grow readership – one more thing is that new BlogRush users who sign up using your referral link will bring you more and more traffic
It's a fun way to explore new websites in your niche
How to get started
Simply follow this BlogRush registration link, and answer all the questions (there won't be many). You can add as many blogs as you like, and pick a relevant niche for each of them.
The next few days will definitely bring useful advices on optimizing your experience, and I'll be sure to post the highlights up on this blog.
That's it. Not sure how successful BlogRush will turn out, but seems to me it's definitely worth a try! Let me know how you find it once you sign up.
I've just realised that some of you may have never heard about the great blog anniversary at David Airey's blog, which is accompanied by a fantastic prize draw.
David Airey is a logo designer well known as the creator of some of the best logos on the web. To celebrate his blog's anniversary, he's got more than $4,000 worth in free prizes for all of us to win!
As always, there's a number of ways to participate – subscribing to his RSS or email list is one option, and blogging about it (that's right, just the way I'm doing now) is another.
There's still 2 weeks left for you to make up your mind on participating, and the quality and number of prizes is so impressive that I think everyone should give it a try. Let me know if you win anything, and you're always welcome to thank me for sharing the link to David's website too

Mark Wielgus from 45n5.com has built a great Top 100 Make Money Online Blogs, a manually populated list which is automatically updated with Google PareRank, Technorati and Alexa ranks.
For one, it's a great source for new blogs to read. Being rather dynamic, this list serves as a benchmark and helps owners of such blogs see how they rank along (don't want to use against here) each other!
Have a look at the Top 100, you'll probably want to bookmark it!

I'd like to announce that as of this week, Perfect Blogger is a proud member of the Digital Folders Network.
Digital Folders is a very young project, and that's part of the challenge that I like about it – being so close to the beginning of the network is always exciting as all the approaches and methods, changes and interactions are actively discussed and reworked to ensure the maximum usefulness of the participating blogs which keeping visitors and advertisers interested and happy.
If you're interested in joining the network, please have a look at the current team. Both new bloggers (a new blog will be created and hosted for you) and established blogs are welcome.
For advertisement, read more on the advertise with us page.
Great news! Google Reader – the best RSS reader ever, has finally got the long-awaited search functionality! This means that you can now search through all the feeds you're subscribed to, either a particular folder or all of them.
For me, the most useful search would be finding the good articles among the ones you have starred in the past. If there was one feature I could add to Google Reader, this would be the one. So I'm really glad it's finally arrived.
For the official announcement, go read the post on Google Reader blog, otherwise have a quick look at the screenshot, and go on – give it a try yourself!